Most of the photographs put up during Easter could double as an argument against religion–and for anthropology. Spiritual yearning is reduced to cultural performances characterized by pre-modern costumes, ritual processions, and other forms of excess. But then I saw this: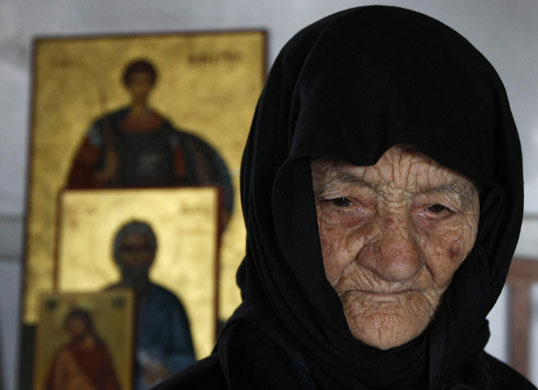 This photograph doesn't break with the prevailing conventions for documenting religious spectacles, but it gets past them to touch some basic questions about both photography and religious experience.
You are looking at Despina, an 89-year-old Greek Orthodox nun in Northern Cyprus. You can't see the candles she is lighting, but perhaps you can see their light reflected in her face. Or would, if you could get past looking at her face. Cowled in black, without visible hair and certainly without feminine makeup, her person is concentrated in her face. But you probably looked at her face, rather than into it, because you were scandalized by the wrinkles etched into her flesh like deep channels on a barren planet. Add the enlarged nose and blotched skin, and aging is staring you in the face.
Photography, Susan Sontag reminded us, has been keeping company with death from the beginning, and this photo seems a stark testament to the art's insistent revelation of human mortality. Photography is being featured because of the contrast between the sharp clarity of her image with the painted icons stacked on the wall behind her. They are antique and at once hazy and luminescent, and so easily symbolize religion as an institution. Now think of Walter Benjamin's insight that the aura of a work of art is deeply embedded in the fabric of tradition. In this photograph, the aura of religion is deeply embedded in the fabric of tradition. But the photograph itself does not have an aura, nor does Despina due to the stark clarity of her image.
Thus, the photograph contrasts two arts and two conceptions of religious experience: religion as the luminous representation of the divine, and faith as a personal encounter with mortality. One is set in the rear of the picture, painting rather than photography, and the past; the other is set in the front of the picture, in the photograph itself, and in the present. The first view of religion is a nostalgic image–literally bathing the icons in a warm glow as they recede in ascending order toward the vanishing point. The second view is critical–the icons will outlast her, and perhaps her vocation, and nothing she believes will change her mortality and perhaps the passing of all human things, including the church.
But it's not quite that simple. By positioning the icons behind her head, they provide her with a faint aura. And the contrast between the two media can go a step further: each represents different ways of seeing and thinking. The religious icon is never one thing–it is both material and spiritual–and it is a pedagogy of immanence–of seeing God in all things. Those habituated to Western painting and a doctrine of transcendence learn to see differently, and that can include a sharper distinction between material and spiritual realities. Say, between the sharp image of an individual human face riven with aging, and a hazy image of God placed in a separate sacred space.
And so look at the photograph one more time. See how she is set in a series with the icons behind her. One might say, with the other icons. If we were to look at her as if she were a religious icon, that is, within the Greek Orthodox optic, we might see that she is much more than one thing.
Photograph by Murad Sezer /Reuters.